Specialists at express delivery
always secure, always on time
Our company was founded in 2016, although we had had been present on the market for much longer having worked in international transport for many years.
Choose the perfect means of transport for your company. Check our range of cargo vans and write to us in case you have any questions.
Thanks to our comprehensive experience we are specialist in international transport. Our speed, punctuality and attention to details make our services very reliable.
Trust our experience
and choose the best shipment for your company.
We carry out our deliveries in less than 13 hours on a 1000 km route. Our vans are being serviced on a regular basis and replaced by new ones every 3 years. 99 percent of our deliveries are completed on time.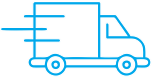 Feel free to ask us any questions and we will reply as soon as possible!