Choose the perfect means of transport for your company.
Need help ? Write to us !
Choose the perfect means of transport for your company
Check our range of cargo vans and write to us in case you have any questions!
Van with a tail lift and a pallet truck for 9 pallets
Example of the
duration of a delivery
Thanks to our extensive experience we can proudly call ourselves experts in international transport! We are capable of delivering goods within 13 hours on a 1000km route.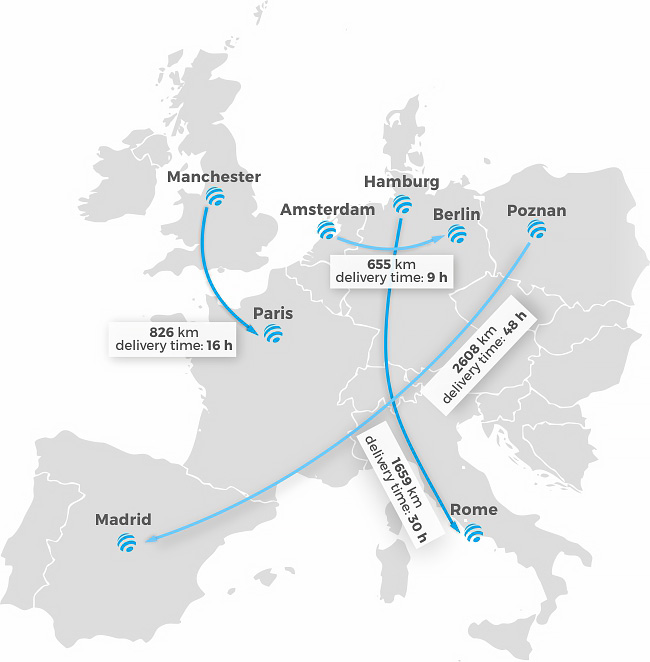 See what makes our company stand out.
Thanks to our comprehensive experience we are specialist in international transport. Our speed, punctuality and attention to details make our services very reliable.
Your freight is always secure with us. All the goods shipped by us are insured and securely placed on the truck. 
All our vehicles are equipped with GPS tracking systems that allow for precise localization throughout the delivery and also provide information about the direction of the vehicle how fast it is going. .It also allows for smart reorganisation of the transport in case of an emergency.
Our employees always work earnestly. From the moment of giving a quotation to unloading the freight the client is regularly informed about the status of a delivery. Additionally, after completing a shipment the client receives a CMR picture and other relevant documents via e-mail.
99 percent of our deliveries are completed on time. We are able to deliver freight within 13 hours on a 1000km route. Our vans are being serviced on a regular basis and are replaced by new ones every 3 years, thereby minimizing the risk of any delays.
Our fleet consists of vehicles capable of transporting from 8 to 10 pallets and vans with a tail lift and pallet truck capable of having 9 pallets on board. The vehicles are also equipped with a customs-approved rope. Thanks to the diverse range of vehicles all the deliveries are finalised effectively and economically